Meridia Recruitment Solutions
Meridia is a KBRS company specialized in identifying top talent for managerial, technical, and administrative roles, quickly and efficiently. Whether you are in search of a highly skilled professional in a specialized role or a contract employee who can hit the ground running, Meridia's team of recruitment professionals can help.
Through a streamlined process, Meridia leverages extensive networks, workforce intelligence, industry knowledge, and proven recruitment strategies to engage top candidates and then present you with the options who most closely match your needs.
Meridia's professional approach and commitment to candidate care have earned the trust of hundreds of organizations and thousands of leaders.
Specialty Focused Approach
Meridia's knowledgeable consultants develop and nurture extensive networks across a wide variety of industries and specialties, to support expedited service without sacrificing quality.
Key market sectors and functional areas include:
Accounting and Finance
Architecture, Engineering, and Construction
Human Resources
Industrial, Mining, Oil and Gas
Information Technology
Manufacturing, Supply Chain, and Operations
Office Administration
Sales, Marketing, Communications, and Customer Care
Health Care
Post-Secondary Education
Legal and Professional Services
Visit Meridia's website to learn more about the services below.
Image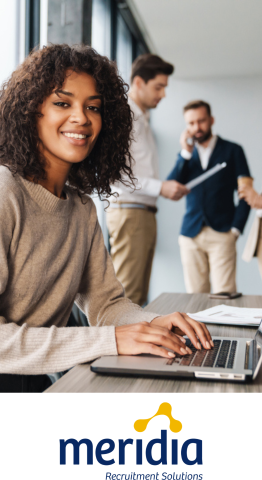 Solutions Tailored To Your Needs
Contingency Recruitment
Connect with talented professionals that match your organization's needs, quickly. You only pay when you hire one of our candidates.
Contract Staff and Interim Management
Connect with reliable short-term or long-term contract professionals to strengthen your team.
Recruitment Process Outsourcing
Our team will efficiently manage all aspects of the recruitment process or tailor our services to your needs.