Dean, Faculty Of Animation, Arts And Design
Image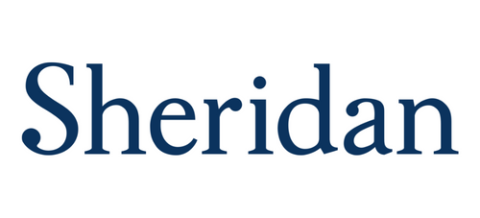 Dean, Faculty of Animation, Arts and Design
The Dean, Faculty of Animation, Arts and Design (FAAD), provides transformative, strategic, and operational leadership, balancing and aligning the vision and strategic objectives of Sheridan with those of the Faculty. The Dean is responsible for advancing excellence and innovation in teaching and learning, and for the development, delivery and sustainability of trailblazing, high-quality programs and initiatives within the portfolio.
Total compensation package includes:
Salary Range: $151,742 - $189,677

Generous vacation + December holiday closure

Competitive Health benefits packages

Maternity/parental leave top-up of 93%

Defined benefit pension plan: www.caatpension.ca/dbprime-pensions-for-talent

Access to Employee and Family Assistance Program
Application Deadline: November 30, 2022.
Consideration of candidates will begin November 15, 2022
Starting Date: April 2023
Who We Are
Every member of the Sheridan community is passionate about the transformational role we play in people's lives. Our strategic plan, Sheridan 2024: Galvanizing Education for a Complex World (https://sheridan2024.sheridancollege.ca/), charts a path towards a new ground-breaking model of higher education that reshapes post-secondary education and better prepares students for the future. We are committed to demonstrably advancing equity, diversity, and inclusivity. Diversity is our strength and fuels our commitment to excellence. Across our campuses, we're making meaningful strides towards developing an equitable and inclusive community. Sheridan was recognized by Forbes as one of Canada's Top 100 Best Employers 2020.
An award-winning institution, Sheridan attracts students from across Canada and around the world. Sheridan's 175,000 alumni play a critical role in shaping the future of our society in the fields of arts, business, community service, health, technology, and skilled trades. Five Sheridan grads have won Academy Awards for shorts or features they've directed. Alumni have earned 13 Emmy Awards, including Brittany Allen (Music Theatre '07), who received a Daytime Emmy Award for her work as Marisa Chandler on ABC's All My Children. Acclaimed animator and Sheridan professor Kaj Pindal, the creator of Peep and the Big Wide World, is also counted among Sheridan's Emmy winners. Thirty alumni have been nominated for Emmys, nineteen have been nominated for Oscars, and seven alumni are Oscar award winners, including Domee Shi (Bachelor of Animation '11) who, as the first female director to helm a Pixar short film, won the Best Animated Short Film for her film Bao.
Sheridan's Faculty of Animation, Arts & Design (FAAD), named best animation school in the world two years running by Animation Career Review, is Canada's largest art school and is home to diverse and innovative fields of study in Animation and Game Design; Design, Illustration and Photography; Film, TV and Journalism; Material Art and Design; and Visual and Performing Arts. Curricular offerings cover a wide range of disciplines and subject areas in thirty-six different programs. Our competitive positioning as the world's best animation, arts and design faculty attracts the best and brightest to study and teach here. The Faculty's 6000+ students learn in a vibrant, forward-thinking, interdisciplinary community and engage in a creative educational experience which develops knowledge, creative thinking — and passion.
What You'll Be Doing
Reporting to the Provost & Vice-President Academic, the Dean of the FAAD provides transformative, strategic and operational leadership, balancing and aligning the vision and strategic objectives of Sheridan with those of the Faculty. Entrepreneurial and creative, the Dean is responsible for advancing excellence in teaching and learning, and for the development, delivery and ongoing quality review of innovative programs and initiatives within the portfolio.
A visionary and inclusive leader, the Dean works collaboratively to advance the world-class reputation of the Faculty in ways that are responsive to the needs of Sheridan's discerning learners. The Dean will work to establish an inclusive, collaborative and supportive Faculty where students, staff and faculty members thrive in a dynamic and engaging learning environment, and one that is grounded in mutual respect, accountability and principled decision-making.
About you
As the ideal candidate, you have a strong track record of accomplishment in industry or education and can motivate and inspire teams to work towards common goals. You bring a global perspective to your work and interact effectively and respectfully with people of different backgrounds and understand that the faculty's strength lies in the diversity of its students, faculty, and staff complement. A post-graduate degree in a relevant discipline is required; however, a Ph.D. or equivalent terminal degree is preferred.
Sheridan is deeply committed to implementing the Calls to Action framed by the Truth and Reconciliation Commission. We acknowledge that we live and work on the traditional territory of the Mississaugas of the Credit First Nations, Anishinaabe Nation, Huron-Wendat and the Haudenosaunee Confederacy. Sheridan is situated on these lands, and it is our collective responsibility to honour and respect those who have gone before us, those who are here, and those who have yet to come. We are grateful for the opportunity to be working on this land.
Sheridan values the diverse and intersectional identities of its students, faculty, and staff. Sheridan regards equity and diversity as an integral part of academic excellence and is committed to accessibility for all employees. Sheridan seeks applicants who embrace our values of equity, anti-racism, and inclusion. As such, we encourage applications from qualified candidates who have been historically disadvantaged and marginalized, including those who identify as First Nations, Métis and/or Inuit/Inuk, Black, members of racialized communities, persons with disabilities, women and/or 2SLGBTQ+.
Sheridan will provide job applicants with accommodation in accordance with the Ontario Human Rights Code and the Accessibility for Ontarians with Disabilities Act. To request accommodation, please contact Human Resources.
Sheridan respects the privacy and confidentiality of personal information provided by candidates in our recruitment process. In accordance with the Personal Information Protection and Electronic Documents Act ("PIPEDA"), a copy of our Privacy Policy is available for your review on our website at https://policy.sheridanc.on.ca/.
All qualified applicants are encouraged to apply; however, Canadians and permanent residents will be given priority.
You may be asked to provide copies of your educational credentials at the time of interview. Upon hire, we require official confirmation of educational credentials and Canadian equivalency assessments, if applicable.
Please apply online: https://bit.ly/3zzXxnC